Basketball Tryouts/Practice: 11/7/22 Monday-Boys 4:00-5:00pm Girls 5:00-6:00pm 11/8/22 Tuesday-Boys 4:00-5:00pm Girls 5:00-6:00pm 11/9/22 Wednesday-Boys 4:00-5:00pm Girls 5:00-6:00pm 11/10/22 Thursday-NO PRACTICES (Drama Performance) 11/11/22 Friday-NO PRACTICES (No School)-Veterans Day

Band and Chorus Concert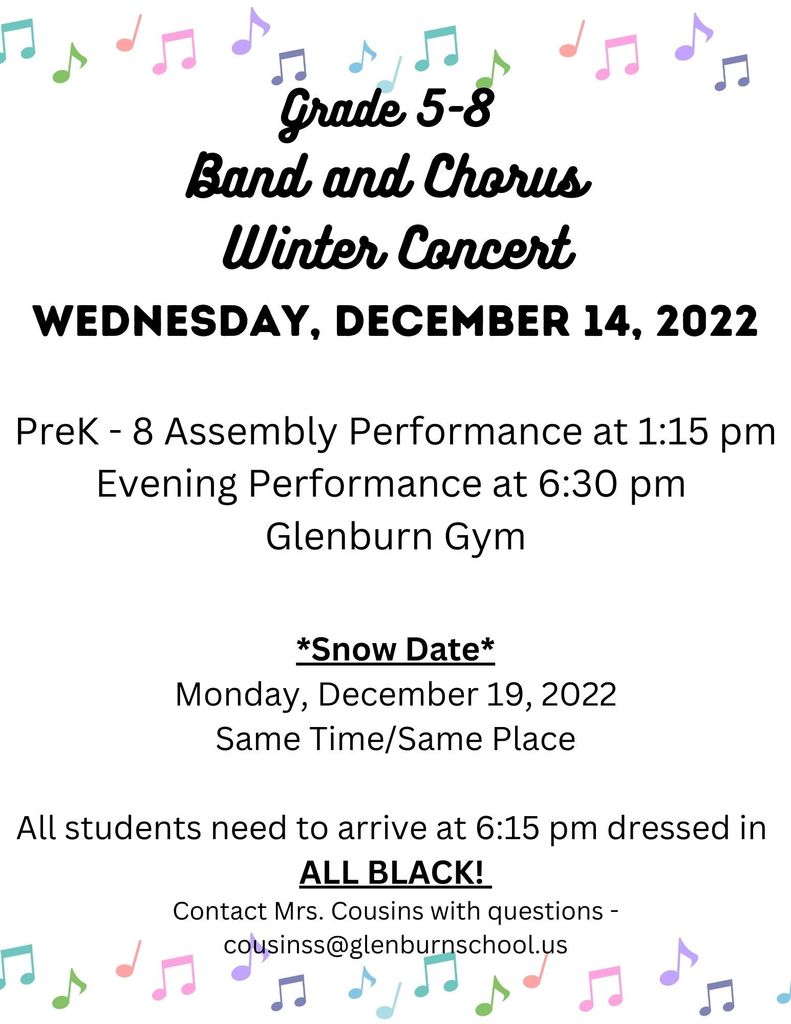 Reminder: Picture Retake Day is Tuesday November 15, 2022. New students or students who were absent during the original picture day should come to the camera on Retake Day. Students who would like a retake must bring their original portrait packet to the camera and return it to the photographer.

Cross country practice is cancelled for tonight (10/26/22) .

The Glenburn School is looking for Boys A and B basketball coaches for our 2022/2023 season. If you or someone you know may be interested, please contact the school at 947-8769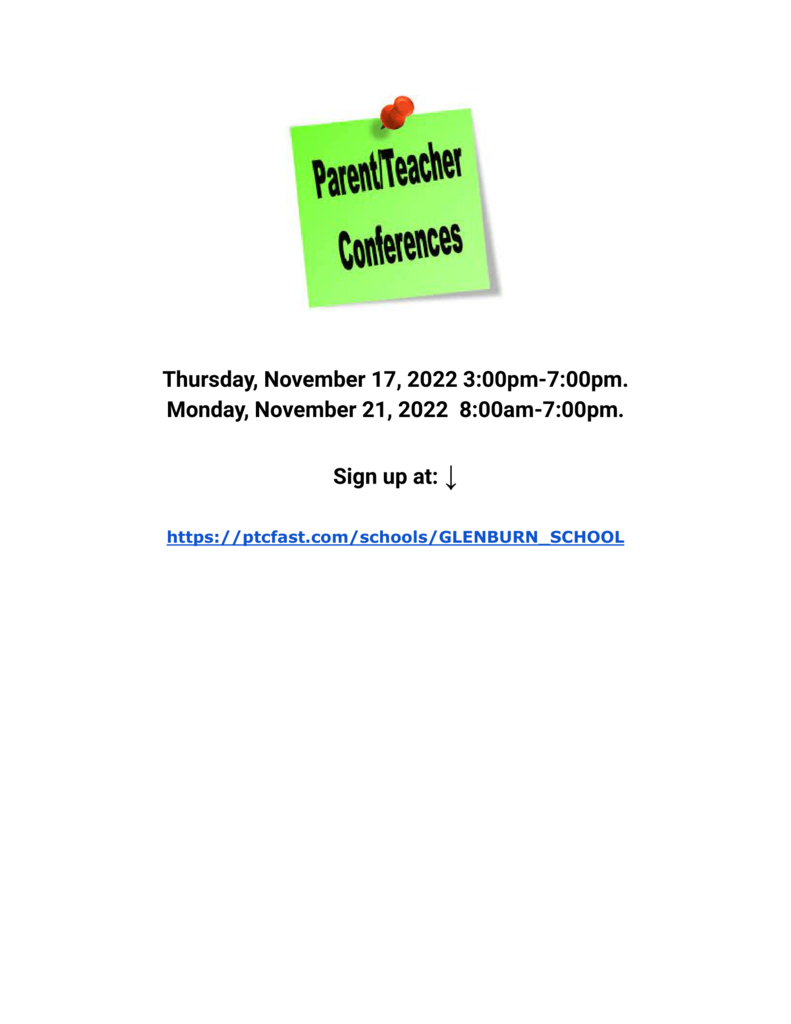 Glenburn School participated in a PRACTICE lockdown at 10:08am today. The first responders helped with this DRILL and gave our students and staff a big thumbs up with the manner in which they participated and followed protocol. Well done Glenburn School!

Trunk or Treat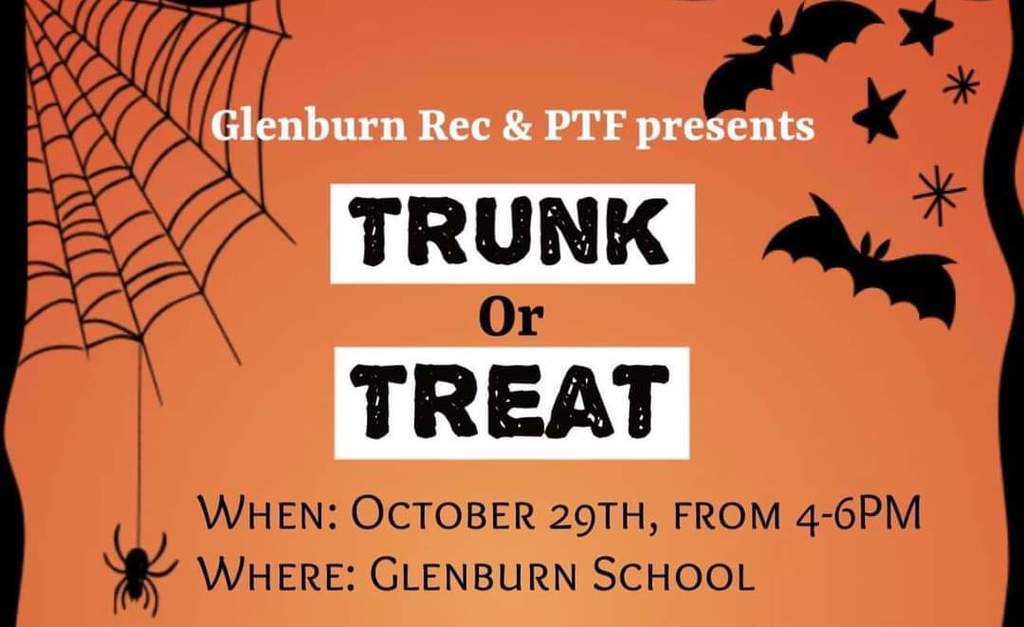 Friday, October 28 is the last day of the Brady Nickerson Foundation penny drive. Keep those pennies coming!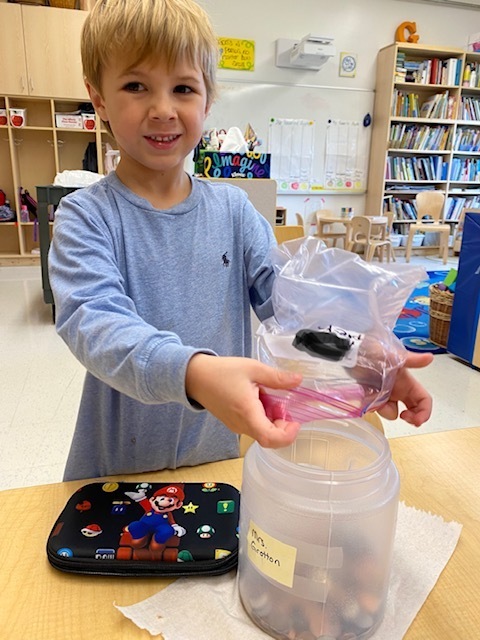 Food and Turkey Drive. Please see the attached flyer regarding this year's food and turkey drive.

Middle School Dance - October 28, 2022. 6 - 9 p.m.

Due to no refs, the boys and girls soccer games have been rescheduled again. Boys soccer team will now play Orrington at the Center Drive School in Orrington. Game will be on Thursday 10/20/22 at 3:15pm. Girls soccer team will be also playing on Thursday 10/20/22 but at 3:00pm. Girls will be playing Holbrook at the Holbrook School in Holden.

Due to impending weather for tomorrow the Cross Country meet has been reschedule for 10/21/22. The meet will still be at Bangor Christian School. The meet will start at 4pm.

Due to impending weather for tomorrow, boys and girls soccer games have been rescheduled for Wednesday 10/19/22. Boys game will be at Glenburn vs Bangor Christian at 3: 30pm. Girls soccer will travel to the Holbrook School for their playoff game against Holbrook, game will be at 3:00pm.
***Pushaw Road Closure Update For High School Students*** The Maine DOT indicates that damage to the Pushaw Road will continue to interrupt traffic for the rest of the week. This means that high school students living from the AA Landing Road to Broadway will not have bus transportation to or from school. In the AM (by 6:55) students may be dropped off at the Shriner Parking lot transfer site and in the PM (after 2:25) students may be picked up at the Dysarts (Broadway) rear parking lot transfer site. Please contact the Glenburn School Superintendent's Office at 942-4405 if your high school student is unable to attend school due to the road closure. We apologize for any inconvenience this may cause. We will send updates as they become available.

BUS #14: Due to the damage on Pushaw Road, bus 14 may be late arriving at your house Monday morning. The bus will have to pick up one end of the road and then circle back to pick up the other end. If you have decided to transport your child on Monday, please let Cyr Bus know at 992-2224. Thank you!

Soccer Playoff Games: Boys soccer will play on Tuesday October 18, 2022 vs Bangor Christian School-Game will be here at The Glenburn School at 3:30pm. Girls soccer will play on Tuesday October 18, 2022 @ Holbrook. Game will be at The Holbrook School at 3:30pm.

Girls soccer practice has been canceled for today 10/13/2022

Middle School Dance-6-8th Grades: October 28, 2022 6-9pm. Admission: $3.00 Costumes are allowed-no masks/props. All school and dress code rules apply.